Keri Rose
Monday through Friday you'll find me in the office rushing the doctors out the door. In my free time I'm a wife, mother, and artist. I don't have horses now (hopefully that will change soon) but have had them in the past
Besides my human family, I share my home with 1 husky, 4 cats, 4 blue & gold macaws and 1 mini Illiger's macaw.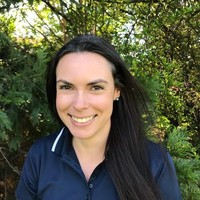 Caitlin Lighthouse
When not working at the barn or assisting the Auburn Equine Doctors, Caitlin enjoys sailing, scuba diving, sewing sock monkeys and gardening. She also enjoys riding whenever she can. Caitlin has competed in the upper levels in both Three Day Eventing and Jumpers.
Caitlin has two large dogs, a goldendoodle named Lemonade and a labradoodle named Breakfast (named after the tea). She does not currently have any horses (has had many in the past) but is looking to change that in the next year.